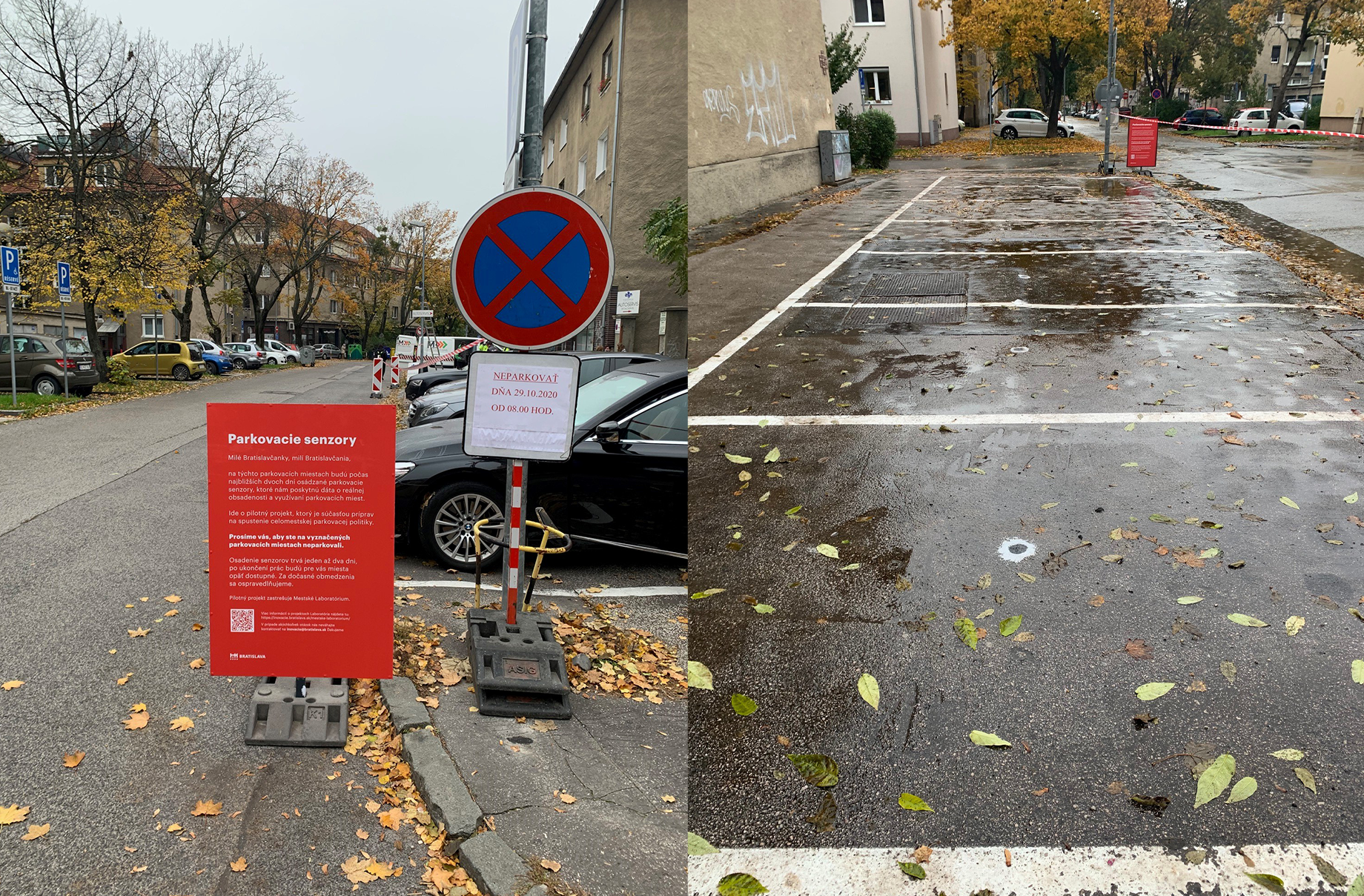 In connection with the preparation of a city-wide parking policy in Bratislava, individual city districts start to regulate parking in some selected zones. The regulation of parking has been in place for some time in the residential area known as 500 Flats in the Ružinov District. On most streets, parking is allowed during the day only for residents.  Short-term parking for visitors is possible only on Velehradská Street. The parking time is limited to three hours.
Monitoring of compliance with the parking time limit is ensured by PosAm with its parking management solution called ParkDots. It is a smart-parking platform used by more than 25 cities in Slovakia, the Czech Republic, Poland and Greece.
"We are pleased that the Municipality of Bratislava has chosen our ParkDots system and intelligent occupancy sensors from the Dutch company NEDAP for the project in the 500 Flats residential area. Visitors to this zone will soon be able to conveniently check via the mobile application whether any parking lot is free or occupied. At the same time, city police officers will have a real-time overview of drivers' compliance with the set time limit for short-term parking. We believe that this solution will help to ensure discipline and guarantee that the parking lot is not used on a long-term basis but exclusively for short-term visits during the day," said Michal Bróska, the company's Product Development Director.
After Karlova Ves, this is the second district of Bratislava that will use the ParkDots platform and data received from IoT (Internet of Things) sensors designed to monitor the occupancy of parking spaces.
The project also aims to provide valuable data that will help the Capital City to prepare for and implement a city-wide parking policy.
"It is important for us to collect data on parking directly from the streets of our city. Only on the basis of real data, we will be able to make effective and correct decisions in regulation of parking. We view IoT-based occupancy sensors as an interesting and promising technology that will allow us to implement several parking scenarios, while providing a useful service for residents and visitors to the city. The implementation of the project on Velehradská Street is designed to verify the system that can help us in putting the city parking regulation into practice," said Petra Dzurovčinová, Commissioner for Innovation of the capital city of Bratislava.
The project was prepared in cooperation with the Slovak company ALAM, which has been implementing intelligent transport solutions for cities in Slovakia and other European countries for many years. For information on current occupancy, drivers can check the ParkDots mobile application available for both Android and iOS, or visit the website https://map.parkdots.com.
Cooperation Between PosAm and Microsoft Makes Parking More Efficient
One of the most important areas we are dealing with at PosAm is definitely transport and parking. The increasing number of vehicles on the road requires solutions that make life easier for drivers. Our parking mobile application ParkDots, based on the Microsoft Azure platform, is such a solution. ParkDots provides comprehensive support for improving urban parking, from residential parking management to parking eligibility checks, parking payments and to navigation to a free parking space. Currently, more than 21,000 drivers use the ParkDots application on daily basis. It is connected to […]
Cooperation Between PosAm and Microsoft Makes Parking More Efficient
You rate the Commander Control Car system as excellent
In order to better understand customer needs in the new normalcy we are all living in, our subsidiary company Commander Services conducted a customer satisfaction survey. The Commander Control Car System, with which customers work on daily basis and find all the data and statistics needed for fleet management, has gained 82% satisfaction with working with the system. The forthcoming CCC System upgrade will bring even greater clarity, intuitive use, faster response, etc. The Commander provides its client with guaranteed 24/7 availability of the hotline. Non-stop dispatching gained 90% satisfaction. […]
You rate the Commander Control Car system as excellent
Wrocław on ParkDots map!
Wrocław is the fourth largest city in Poland. Full of historical monuments and modern pulsating energy, it is located on the banks of the Odra River. It is well-known for its market square lined with elegant townhouses, the Gothic Town Hall with its large astronomical clock, the monumental Racławice Panorama paining, a modern fountain and many places worth visiting. Even PosAm, namely our ParkDots team, has visited the city. However, it was a business trip. As part of the Smart City projects, the city has decided for an intelligent management […]
Wrocław on ParkDots map!