Mobile ID is the Winner of Radio Slovakia Prize at 2020 ITAPA Congress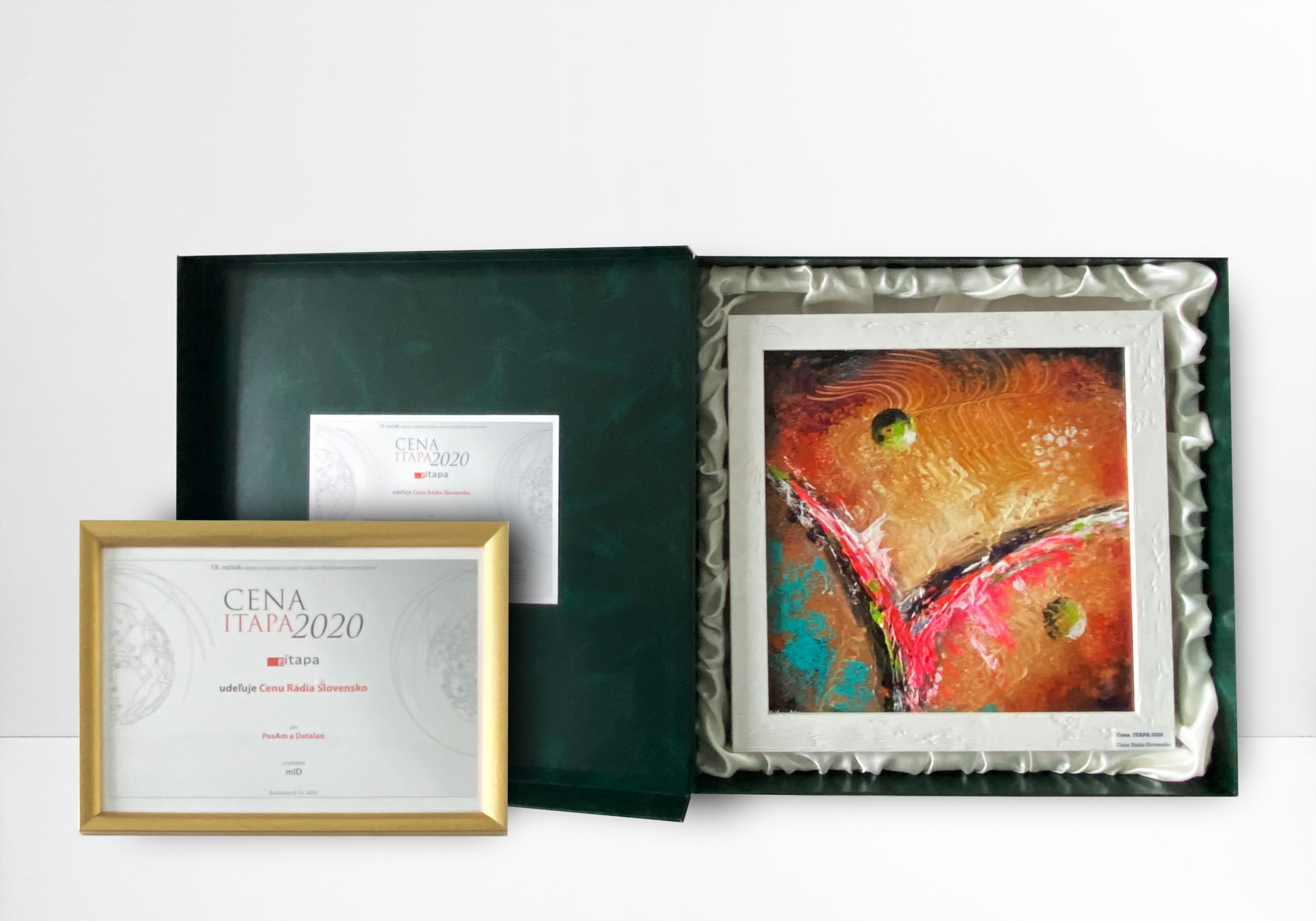 This year, the 2020 ITAPA Congress, in cooperation with RTVS, awarded again the most innovative and useful projects in the field of IT and digitalisation of society. Since 2014, this largest Slovak IT conference has included the Radio Slovakia Award, in which listeners can determine which of the submitted projects they consider the best.
Projects competing for the prize include IT projects that focus on people, make their lives easier and make services more available, as well as projects that use technology to support the development of communities, society and the environment in a broader sense.
This year, the winner of the Radio Slovakia Award is the Mobile ID project, which aims to significantly simplify electronic communication of the citizen and institutions from the public or private sphere. Instead of visiting the office personally, all the client has to do is install the application, verify their identity and authorise the necessary documents with the electronic equivalent of a handwritten signature. They need just two valid identity documents and a smartphone connected to the Internet.
In the Radio Slovakia competition, the Mobile ID project was nominated as one of five out of the total of 21 projects registered for the competition. Mgr. Michal Dzurjanin, Director of the Program Section at RTVS Radio, handed over the Radio Slovakia Award to Ing. Peter Kolesár, Director for Public Administration at PosAm, and Ing. Adrián Belánik, Executive Director of Data Centre for Electronisation of Local Governments.
Mgr. Michal Dzurjanin appreciated the fact that in the strong competition of five nominated projects, the Mobile ID project received 1,855 listener votes, representing more than 42% of the total number of listener votes cast in the competition. He wished the implementation team and the project a lot of success.
"it is a great honour for us and a high appreciation of our work, because the Radio Slovakia Award expresses the opinion of citizens, the opinion of our target group. It is the citizen and their communication with the authorities who benefit from this innovative solution in the form of significant simplification," said Ing. Peter Kolesár, Director for Public Administration, PosAm.
The mID application is published on Google Play and the App Store.
For more information on the application, its installation and use, visit www.vybavzmobilu.sk.
ITAPA: The largest Slovak IT conference that brings together the worlds of IT, industry and public administration.  Since 2002, experts from the government and public administration, IT and manufacture, academia and the non-profit sector have been meeting at ITAPA events. In 2019, over 1,100 direct participants and more than 6,000 online participants attended the ITAPA event. More than 180 inspirational speakers presented thelatest IT trends, best practices, innovations and strategies.
mID – Municipal Office in Your Mobile
In an effort to increase the use of electronic services of local governments, DEUS (Data Centre for Electronisation of Local Governments) is launching a mobile application called mID, that enables citizens to communicate with local governments online. The mID application cooperates with the DCOM information system, thus it is accessible to more than 2,100 municipalities. For citizens, entrepreneurs and municipalities involved in the DCOM project, the application is free of charge. The aim of the project was to create a mobile ID in order to enable official matters to be […]
mID – Municipal Office in Your Mobile
PosAm, Microsoft and ZMOS (Association of Towns and Communities of Slovakia) have joined forces and provided remote teamwork technologies for municipalities
PosAm and Microsoft responded to ZMOS' call and gave a helping hand to Slovak municipalities and towns in a difficult situation related to the spread of COVID-19. This cooperation has helped to remove the barriers that have arisen after people were forced to swap their workplaces for their homes. We believe that modern technologies can start a new method of teamwork, which will allow Slovak municipalities and cities to continue to work effectively. The Microsoft Teams collaboration tool has been made available for thousands of employees in 2,930 municipalities in […]
PosAm, Microsoft and ZMOS (Association of Towns and Communities of Slovakia) have joined forces and provided remote teamwork technologies for municipalities
As part of the TOOP project, we are helping to create IT architecture for the European Single Digital Gateway initiative
The EU Single Digital Gateway Regulation (SDGR), which is a Europe-wide legal act, requires the Member States and countries of the European Community to provide citizens and businesses with access to 21 digitized administrative procedures in a safe and convenient way by 2023. These are, for example, application for a birth certificate, registration of a vehicle, commencement of a business, or filing a tax return for corporate income tax. These services must be fully online and must comply with "The Once-Only Principle" across all the countries of the EU. Therefore, […]
As part of the TOOP project, we are helping to create IT architecture for the European Single Digital Gateway initiative